The trained team at GP Shutters has been producing the highest quality shutters on the market for over 35 years. Every shutter we produce is custom-built to your specific windows.
1. Precise Measuring:
Our experienced professional carpenters will come to your home to take precise measurements of each window to ensure an exact fit.
2. Polished Production
Each shutter is handcrafted and custom-built right here at our wood-shop located in the KC Metro area. No attention to detail is missed in our painting and staining process. Your shutters will be expertly finished to your specifications, matching your decor to perfection.
3. Professional Installation
Our professional installers will come to your home and install your finished shutters. This traditional hands-on process is the only way to guarantee a high quality, custom fit shutter every time.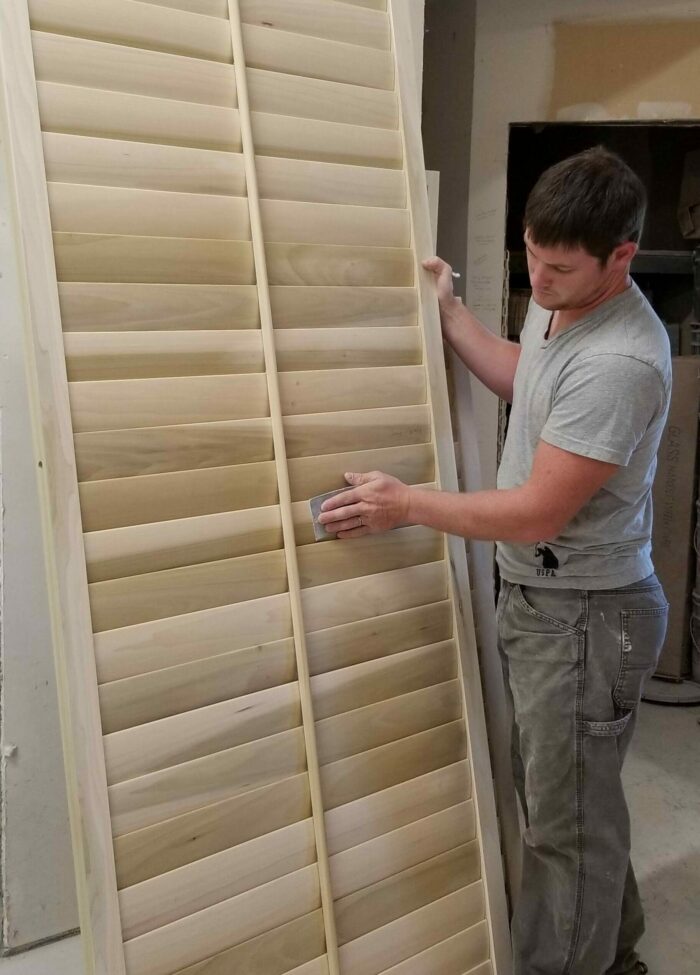 Our family-owned small business of carpenters and painters has been revered as builders of the highest-quality plantation shutter. We are confident in our craftsmanship and our shutters are guaranteed for one year from the date of installation.
Benefits of Shutters in Your Home:
Shutters Are Timeless
Unlike the trends that come and go, your shutters will last a lifetime and become part of your home's architecture.
Shutters Can Add Value
As a wise investment for your home, GP shutters have the potential to increase the value of your home in the long run.
Shutters Can Help Reduce Energy Costs
Our shutters insulate from the cold and heat, reducing your energy costs.
Shutters Can Protect Your Home's Interior
With a simple tilt of the blades, your shutters can help protect furniture and carpet from the sun's damaging rays.
Shutters Provide Privacy and Outside Noise Reduction
By closing your blades, shutters can provide complete privacy from neighbors or passersby and can help reduce outside noise from traffic, neighborhood pets and more.
Shutters Are A Safer Solution for Small Children
As babies grow and begin to gain mobility, unsightly cords and strings on traditional blinds become a potential danger. This danger is eliminated when blinds are replaced with shutters.
Interested in an in-home estimate?
Fill out your information below and someone will contact you to schedule your window measurement session!
"*" indicates required fields